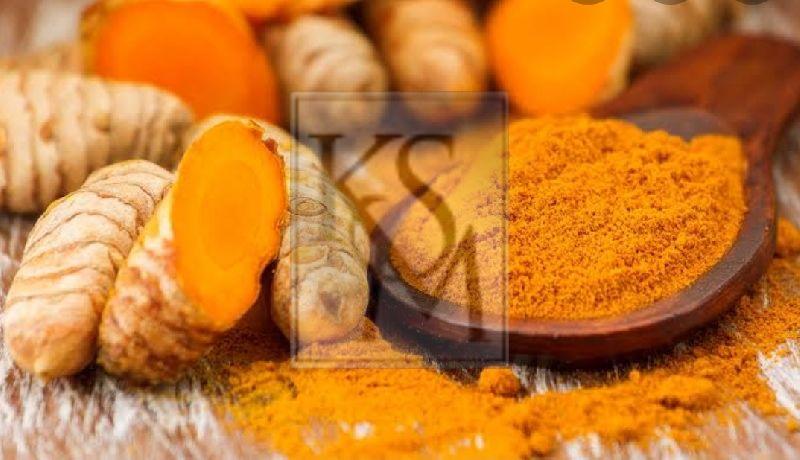 Turmeric Powder also called a superfood is one of the most magical spices in Indian food. It is traditionally called Haldi and enriched with anti-oxidant and anti-inflammatory properties. Turmeric has a bright yellow colour and mostly used by the South-Asian people. Turmeric is extracted from a flowering plant. It gives the curies a signature yellow colour and botanically it also renames Curcuma longa. It contains curcumin which makes it the most powerful ingredient with therapeutic properties. It has been proven that turmeric consumption can help to reduce the effect of several disorders such as liver detox, arthritis, heart disease, stress even cut down cancer risks.

Curcumin or the bright yellowish chemical processed by turmeric flowering plant has been approved by the WHO of the European parliament and Food and Drug Administration of the United States as a food supplementary ingredient. Turmeric has played a vital role in Ayurveda, Chinese medicine and Siddha medicine, or Unani treating methods.

Benefits:

• Rich with anti-oxidant: Reports say that turmeric has natural flavonoids mobilizing anti-oxidant and forager of free-radical capacity. Curcumin plays a vital role in preventing heart disorders. Consumption of turmeric can deduct the risk of glaucoma, cataracts and macular degeneration.

• Immunity booster: Turmeric is highly infused with curcumin content. It helps to boost up our immune system so that our body can fight viruses, fungi and bacteria.

• Anti-cancerous: Turmeric also works as anti-cancerous. Its curcumin content made him able to kill the cancerous cells. It also promotes the growth of vein or venule.

• Anti-inflammation: Inflammation is known as a natural process by which our body gets protection from bacteria and viruses. But sometimes our body triggers inflammation when there are no outside invaders to fight with. As a result, our body's regular tissues are getting inflected or damage in this method. According to research, turmeric has very strong anti-inflammatory properties to block this inflammation action occurring in the body.

• Heart disease: As mention earlier, curcumin can reduce inflammation and works best to improve the functioning of tissues. A discerning sturdy proves that turmeric can be compared to stains. Stains are regarded as a group of drugs used to lower down cholesterol and make the blood vessels free from any disease.

• Brain disorders: Most people are aware of the fact that turmeric can prevent brain disorders. According to the studies, turmeric enriched with curcuminoids can increase the productivity of BDNF. The deficiency of BDNF invites several brain disorders such as depression, Alzheimer's and dementia. Over productivity of BDNF hormone may invite ageing relation brain disease or boosting memory.

Uses of raw turmeric:
Raw or fresh turmeric looks bright-orange in colour and belongs to the ginger family. It is highly enriched with anti-oxidant, anti-bacterial and anti-inflammatory properties. This powerful spice is used to treat several skin condition and wounds for centuries. Raw turmeric is somewhere different from the dried ones. When the turmeric goes through several processes like boiling, peeling, grinding and drying, it loses the quality such as essential oils but carries the same warmth in colour.

Purchase Raw Turmeric in Chennai from the grocery stores in the local market or online stores such as Raw turmeric finger, Bulb turmeric and many more.

How to use fresh turmeric:
There are lots of ways to include fresh turmeric in your diet. It would be a tasty as well as a healthy experiment for you. Some people use fresh turmeric for external users such as skin problems or wounds etc. Make a paste of fresh turmeric using a mixer and add some neem oil to it. It would treat your acenes and pimples and help to get soft, smooth and pimple-free skin. According to the doctors, fresh turmeric is a very well detox drink for burning fats or PCOD problems. In this case, you need to have fresh or powdery turmeric and add it to the hot water with honey and lemon. It helps to boost up your metabolism and detox your body.

However, for thousands of years, turmeric has been used to make medicines in Chennai and till now people have purchased it from some renowned Turmeric Powder Manufacturers Chennai such as Salem's finger organic Turmeric powder used for cooking, Unpolished Salem Kasturi Turmeric powder and so on. You can purchase it from their shopping websites too.
This entry was posted on April, 20, 2021 at 16 : 25 pm and is filed under Turmeric Powder. You can follow any responses to this entry through the RSS 2.0 feed. You can leave a response from your own site.