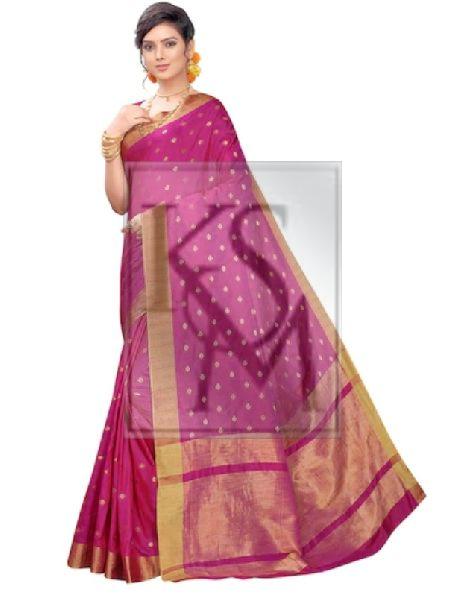 Sarees have a special place in every Indian woman's heart and wardrobe. Sarees are one of the most beautiful ethnic wear of Indian women which can uplift the beauty of any girl or woman instantly. Sarees are available in the fashion market in various fabrics but Silk sarees have occupied an influential place in the industry and today women of different regions, castes and nations have shown their preference for this elegant piece of clothing. Especially in the Southern region of India, where there is the maximum growth of this fabric and a considerable part of the women population wear silk sarees at weddings or any special occasion. Silk fabric is anti-wrinkle, shrink resistance and carries an inherent sheen, which makes the silk sarees look a class apart.
The use of the best quality of silk, the vibrant colours and, the creative design of the pallus and borders make the Indian silk sarees stand tall in the worldwide market. The different varieties of silk sarees are Kanjeevaram, patola, Banarasi, butter silk, paper silk, Mysore, khadi silk and many more. The beauty of these simple silk sarees is further accentuated with zari works, zardozi single border, hand embroidery and contrasting blouse. Each piece of silk saree illustrates the work of fine craftsmanship of Indian weavers who weave fascinating dreams with intricate artworks from a few strands of silk thread. Symbolizing the culture of our nation the nine yards grace of silk saree from Silk saree supplier Chennai will easily beat any other look.
Indian Kanjeevaram silk saree is world famous and Chennai is famous for its Kanjeevaram silks. Every year, many people come to the city of Kanjeevarams to get the best of the silk sarees from a wholesale silk saree supplier in Chennai. Their silk sarees are popular for the grand weaves which spread out far and wide into the country and across the world. Indian wedding is incomplete without these silk sarees from Chennai imparting some of their grandeur to them.
The popularity of providers of silk saree is due to the following reasons-
They supply these silk sarees with fine texture, designs and prints, which are available at a reasonable price in a choice of patterns and styles.
They have a team of fine artists who craft meticulously keeping in mind the latest sensitivities of fashion and making the wearer appear exceptionally stylish.
Their silk sarees are made with superior quality raw material and fabric and advanced technologies.
They check these silk sarees on various parameters to ensure that only defect-free range is forwarded to the market.
They are associated with reputed logistic facilities to ensure that these sarees are delivered to the customers within the promised timeframe.
Bottom Line
Indian Silk sarees from a silk saree supplier Chennai are famous across the world for their grandiose, richness, and tradition. A silk saree is one such traditional wear that you can find in every woman's trousseau list and wardrobe. Owning a silk saree is a pride for every Indian woman of any age as one can always by wearing this simple yet elegant silk saree at any party or wedding. The traditional silk sarees are the most adored and treasured Indian wear that is handed over from one generation to another. A gorgeous silk saree with traditional designs and contemporary touch is perfect for today's modern woman. Choose a reputable wholesale silk saree supplier in Chennai who have an exclusive range of beautiful silk sarees.