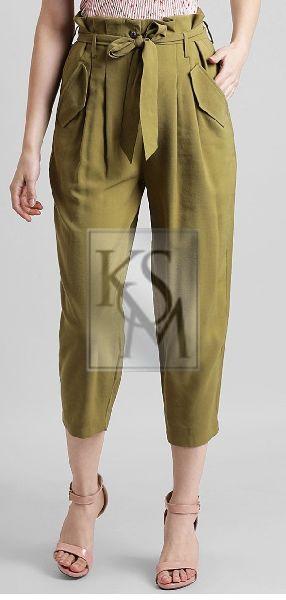 No matter how expensive the material is, there is no meaning in purchasing clothes that is not comfortable. Comfortable fabrics not only provide enormous ease but also help to prevent many skin rashes and inflammation.
Therefore, it's always advisable to choose fabric quality over anything else. When it comes to the matter of buying 100% quality-assured clothing options, pants can be an extraordinary option for ladies. There are numerous paint options available in the market among which few are traditional but others are of the recent trend. Jeans, leggings, Patiala, and Palazzo are some notable among them.
Each of them possesses some distinct features and is appropriate for creating different looks and styles. Below are the reasons that depict why pants are ideal for both comfort and trendy look. You can get a myriad range of colours, sizes and styles of ladies' pants at any reputed ladies pants suppliers in Chennai.
Why Ladies Pants Are Stylish Yet Comfortable clothing Option?
Ladies pants are available in many different shades, textures and colours. They can be made with cotton, silk, georgette, artificial silk, poly-cotton and many other materials. You can get miscellaneous types of motifs, floral designs, printed designs, and stitch work on the pants. The major benefits of ladies pants are the following.
● No matter which type of pants you select, they all can offer a fashionable look.
● Pants are available in different colours, designs, fabrics and motifs which make them the most trendy clothing option.
● If you wear pants, they can prohibit excessive sweating by giving you sufficient air.
● No matter what is the season, be it hot summer or cold winter, pants are the perfect wears for any occasion.

So, these are some of the major advantages of wearing pants. But purchasing pants efficiently is not an easy job if you don't have any knowledge about clothing and its quality. Hence read the below part to know how you can purchase pants without any drawbacks.


Quality of the Fabric
The first and foremost aspect of assessment of buying ladies pants is none other than the quality or integrity of the fabric. Yes, when you are choosing a pant such as Palazzos, jeans, leggings or any other pants, always check the quality of the clothing fabric or material. A quality-assured material is best suitable for providing comfort and longevity.


Design
The next thing you should evaluate while buying pants is none other than the colours and design of the pants. The selection of ladies pants directly relies on the purposes of its use. If you are selecting pants for summer, always buy light-coloured Palazzos or leggings. Hence, think about what reason you are taking the pants and then select the design and colour as per that.


Manufacturing Brands
The next big thing that needs thorough analysis is the manufacturing brands or companies. Before buying any pants, always remember that there is no replacement for a renowned brand when you are choosing clothing material. A well-known brand can offer better comfort as well as reliability. So select the well-acknowledged ladies pants suppliers in Chennai for purchasing the appropriate pants for you.
Price
The most important matter of evaluation while buying pants is none other than the price. Before buying clothing items like pants, you need to check the price of various brands that are offering the same product. It's necessary to review the cost of several brands because by attempting this, you can get a better idea of the actual cost of the clothes.
So select your preferred pants after assessing this article to avoid unnecessary expenses as well as assuring integrity. No matter for which occasion you are buying a pant, they would look great and offer a dashing look.